Diseases
World Physiotherapy Day 2023: Physiotherapy May Also Help Prevent Arthritis, Says Experts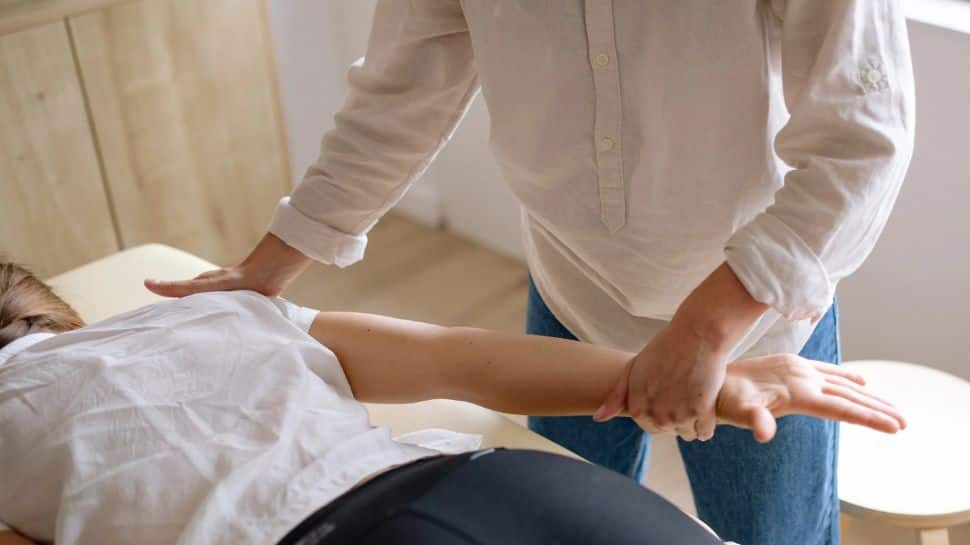 Physiotherapy is an important part of overall treatment and helps people with arthritis find a balance between rest and activity/exercises, say healthcare practitioners. Traditionally Physiotherapy was advised for only those already diagnosed with arthritis, where exercises were prescribed based on grade of arthritis. However, physiotherapy also helps prevent arthritis by tailor-made exercises and lifestyle changes. These changes generally include prevention of injuries, early management of symptoms like joint swelling and ergonomics prescription etc.

Traditionally, physiotherapy has been limited to patients with bone, joint and muscle problems only. Increasingly, physiotherapists are playing a vital role in the treatment and recovery of patients with Neurological ailments like stroke, parkinson's etc and heart and lung diseases like coronary heart diseases, COPD. Almost every patient who undergoes a surgery of any kind now is prescribed with a physiotherapy based recovery programme.
Every year, World Physiotherapy Day is celebrated on September 8 to acknowledge the contributions made by physiotherapists in patient care. This year's focus is arthritis and all forms of inflammatory arthritis, including rheumatoid arthritis and axial spondyloarthritis.

Also read: Long-Term Sleep Deprivation May Increase Risk Of Alzheimer: Claims Study

According to Dr Kishore B Reddy, HOD Orthopaedics & Orthopaedic Oncology, Amor Hospitals, "Arthritis affects 15 per cent of people, over 210 million people in India, contributing to 22 – 39 per share to global numbers. It is a very common condition where the joints are affected. Women are three to four times more frequently affected than men and generally occur in the 35-55 years age group, whereas inflammatory arthritis is three to four times more common in men and those obese, aged 50 and above.
"Physiotherapy helps immensely with reducing the pains caused due to arthritis and helps improve movement. Though India is ranked second in the world in terms of cases, patients receive recommended medications, special exercises and joint protection devices for self-care. It can affect people of all age groups, athletes, kids, teenagers etc. Regular physiotherapy is important in inflammatory arthritis which can offer a number of health benefits."

Dr Mrudula Kodipaka, Head of Rehabilitation, Century Hospital says that physiotherapy is an interesting and well-paid profession which gives an opportunity to meet new people every day. "On this occasion we gather to discuss developments in the field and how they can support their colleagues. Arthritis is a very common problem, which is swelling or tenderness or one or more joints. The most types of arthritis are osteoarthritis and rheumatoid arthritis. Inflammatory arthritis is a condition many people endure for a lifetime and thanks to advanced treatment."

Talking  about the importance of physiotherapy, Dr Sudhindra Vooturi (PT), HoD- Physiotherapy & Rehabilitation at KIMS Hospitals, Secunderabad said, "On this day, we should express our solidarity and thankfulness to physiotherapists across the world by participating in various awareness campaigns organised to promote the importance of health and wellness. It is an opportunity to recognise the hard work done by physical therapists by sharing information on social media, sharing success stories, organising a physical therapy walk. These steps help promote the overall message of physiotherapy to the right audience and helps individuals learn more about physical therapy."

According to Dr Narasimha Reddy , Senior Consultant Orthopaedic Surgeon, SLG Hospitals, "Physiotherapy helps manage major and minor pains and improves movements in patients with various health complications.
It helps reduce symptoms of chronic illness, diseases and conditions. Regular physiotherapy can benefit your physical, mental and social health. It helps improve conditions related to heart, diabetes, obesity, depression and some cancers. It is designed specific to each person's needs, challenges and goals. It can help avoid some surgeries and is as effective as surgery.

Research shows it helps with muscular tears and knee osteoarthritis, rotator cuff tears, spinal related complications and disk diseases. There are 5 stages in physiotherapy. Phase 1 Pain and Swelling, Phase 2 Improve range and motion of training, Phase 3 Improve strength and begin balance training, Phase 4 Sports specific training, Phase 5 Gradual return to full recovery."
Source link